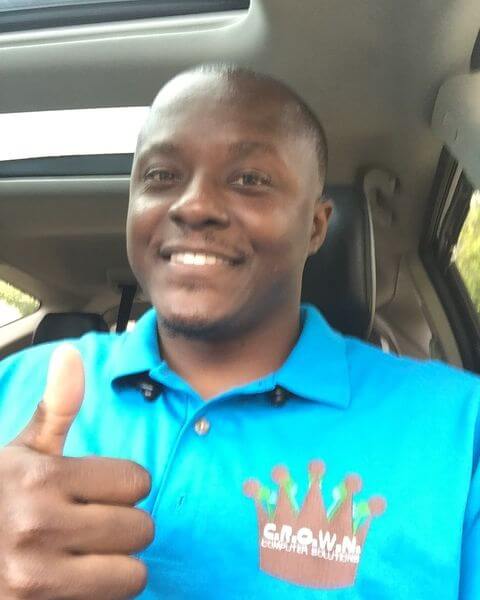 C.R.O.W.N. Computer Solutions was founded in 2006 by Charles Simpson as a conduit through which to marry his twin passions: information technology and customer service. C.R.O.W.N. (originally an acronym for (C)onsultation, (R)epair, (O)ther, (W)eb Design and (N)etworking) specializes in product training and computer and networking solutions through providing its customers with the technical and technological expertise to troubleshoot minor problems and to get the most out of their computers. The company's signature strengths are the ability to complete computer and networking needs at substantially lower costs than traditional providers and to customize solutions for each customer. In short, meeting customer needs is our responsibility.
Our Purpose
We're big on providing quality service
Our world is moving at the lightning-fast speed of technology. Computers are getting smaller and more powerful. An increasing amount of man-made jobs are becoming automated. Everyday, billions of dollars are transferred with the click out the mouse. E-mail is the preferred mode of electronic communication. You can even make international phone calls over your computer. Keeping up with the changes is a challenge for the most skilled information technology professional. But the world of technology and computers doesn't have to be a mystery. That's where C.R.O.W.N. Computer Solutions comes in. At C.R.O.W.N., our philosophy is to help technology help you. Our technicians have more than 10 years of experience solving a wide range of information technology and computer repair problems. We're particularly sensitive to the needs of clients who are using computers or technological applications for the first time. We'll demystify technology for you, walking you through the basics, so that you feel empowered, equipped and computer savvy. Yes, we are a very small company, but we're big on providing quality service and customer satisfaction. Whether you are in the market for computer repair, smart home installations and/or website management, let C.R.O.W.N. Computer Solutions be your one-stop shop to meet all your computer- and technology-related needs.
Low Price Guarantee
Quality of work should not be dictated by the price paid for the services. Here at C.R.O.W.N. you will find some of the lowest prices around and it is not due to lower quality but rather the business and pricing structure we have implemented. Overhead Expenses
The backend business structure has a great deal to do with the prices that companies charge for services. Major competition such as Geeks Squad and others have major overhead expenses that need to be paid in order to stay in business. The higher prices that they charge are not necessarily for better quality but rather to pay for the numerous backend expenses that go into keeping their business afloat. C.R.O.W.N. Computer Solutions believes in quality over quantity and that mantra starts with our business structure. We are a small company that focuses on mobile repair services which allows us to skip the expenses of having a storefront. In addition to avoiding storefront expenses, we also take other measures to keep expenses down so that we can offer you the lowest prices around. Dynamic vs. Static Charges
Around the repair and service industry, hourly charges are how most businesses set their fees. While this method may work for some, the guessing game from determining what the final "damage" may be can be of concern to many clients. Here at C.R.O.W.N. Computer Solutions we choose to label our labor services with static charges similar to standard products. Static charges give our customers a no non-sense approach to the cost our our services. Instead of taking the hourly approach and starting the clock as soon we begin to analyze the issue, we provide all of our customers with free estimations prior to beginning any work. After the estimation we are able to provide an accurate price quote so that our customers will know exactly how much their total will be with no surprises.
Our Service Area
Greater Austin communities
We are proud to serve the Greater Austin community through providing unique mobile services to fulfill your needs.
Georgetown
Leander
Round Rock
Hutto
Pflugerville
Cedar Park
Taylor
Got Questions?
We have answers
We aim to remove any doubt that you may have so that you'll feel confident that we'll treat you and your computer like royalty. Still have a question? Let us know today!